How can u say he is not cute????? i don't see any reason to give bad comments about Kimi's look. He is so HOT + CUTE + HANDSOME + COOL + BLA BLA BLA........i mean,look at him...>>>>>> he is definately better than Alonso !!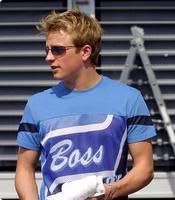 now u know what i mean??? must be nodding ur head ! haha...
Li Peng, u will support me right???