its really been sometime since i post something... haha [ no wonder li peng keep bugging me.... sorry..! ] haih.... u cant really blame me... [ we're having exam, right? ] finaly, now its HOLIDAY !!! hehe.... its actually a happy one... as i can break for a short while. Last week F1 my fav driver won the race... hehe.. best thing ever! Kimi Rulez.... This morning, i just sat for my chinese essay exam. OMG!!!!!!!! it was terrible.... somebody.. plz help me.. [ ok, i know some ppl will say its my fault that i dunno how to do coz i dont touch any chinese stuff besides sitting for exam... blek..] nvm... its over.. there's nothing i can do ! Yesterday i went to Sunway College for some "mind tool" thing. It was ok ok... haih... Later, we ( me, li peng, weng yan, tracey, jin yan, ser ying & kristina ) all went to pyramid !!! hehe... First, we ate at Kim Gary... oh, i had a fried rice [ dunno what style..... recommended by ser ying ] quite nice >>> then, we went to take pic !!! haha... it was weird !!!! we took with a new machine & it was CRAP !! i dunno what to say lar... the pic turn out to be like CARTOON... haih.... waste money... oh, we went to arcade too !!! it was fun [ accept li peng didnt know how to play anything ! even tracey who lost every time still play...] ok... then we went to try on some dresses.. [ not all of us lar... erm, peng / kris / jin yan only...] haha... they look CUTE>>> after walking doing nothing, we decided to take pic for the 2nd time... since the 1st turn out to be like that ! this time around was better... much better... haha... waste more money again...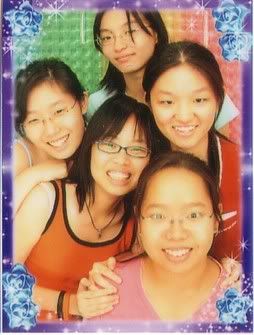 look at Kristina's eyes!!!
li peng does look weird without " cermin mata "